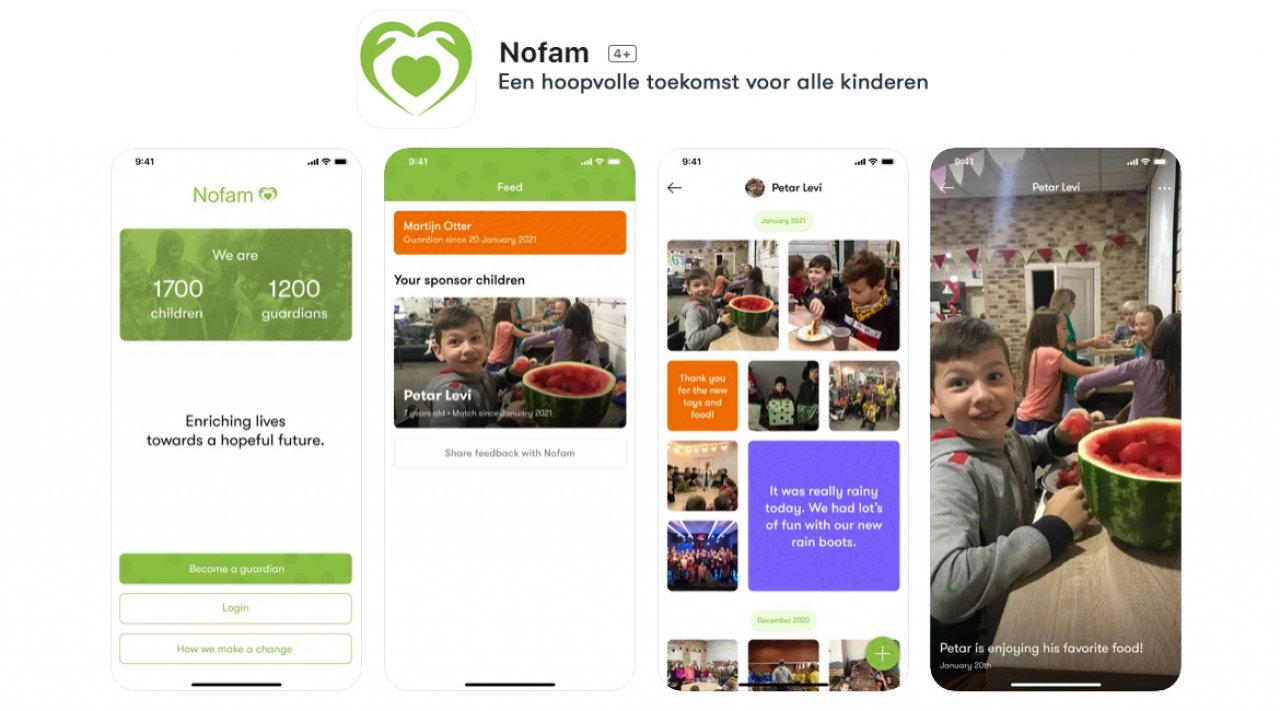 Nofam Guardian App Live in the App & Play Store
This week is another great step towards helping 25,000 underprivileged children towards a hopeful future end of 2023🌈
We are proud to announce that the Nofam Guardian app is now available in the Apple App Store and Google Play Store!🥳
In April we started the rollout of the app within a closed pilot environment and the feedback received has resulted in the version that has been live in the stores since this week. In addition, 24 children have now been linked to one or more guardians via the app. Together they are thus traveling and updates are exchanged via the app (photo/video).
This does not mean that we can now sit back and laze. No, the backlog has been filled and we are busy simplifying the guardian onboarding process. This so that users can also start the matching process from the site.
What does a Nofam guardian sponsorship mean?
As a sponsor, you are linked to a disadvantaged child as a Nofam guardian through the app. This child is supported by a foundation that offers help locally, somewhere in the world.
With 1 euro per day - 31 euro per month - you help a disadvantaged child to a hopeful future. You can do this along with 3 other guardians, with one of you acting as the main donor.
The amount donated by you as a sponsor is passed on 1-on-1 to our partner foundations that use the received donation amount to help your sponsored child with education, nutrition and care in a safe environment. Since the child can only be helped within a program, this amount cannot go directly to the child.
After a match with a sponsored child, we will contact you via your email address to arrange the monthly donations. (We are currently working on the version of the app/site where this is possible immediately)
Via the app you will receive periodic updates (photos and videos) from your sponsored child, via the responsible foundation. You can also share photos and videos with your child yourself. In this way you build a joint timeline with your contribution to the life of the child.
Would you like to travel as a guardian with your sponsor child?
If you have an iPhone, click here and if you have an Android device, then click here.
app, guardian, google, apple, android, ios